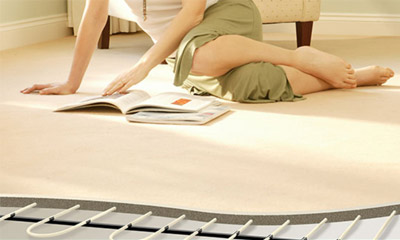 Underfloor heating and cooling is a form of central heating and cooling that achieves indoor climate control for thermal comfort using hydronic or electrical heating elements embedded in a floor. Heating is achieved by conduction, radiation and convection. Use of underfloor heating dates back to the Neoglacial and Neolithic periods.
History
Underfloor heating has a long history back into the Neoglacial and Neolithic periods. Archeological digs in Asia and the Aleutian islands of Alaska reveal how the inhabitants drafted smoke from fires through stone covered trenches which were excavated in the floors of their subterranean dwellings. The hot smoke heated the floor stones and the heat then radiated into the living spaces. These early forms have evolved into modern systems using fluid filled pipes or electrical cables and mats. Below is a chronological overview of under floor heating from around the world.
Description
Modern underfloor heating systems use either electrical resistance elements ("electric systems") or fluid flowing in pipes ("hydronic systems") to heat the floor. Either type can be installed as the primary, whole-building heating system or as localized floor heating for thermal comfort. Some systems allow for single rooms to be heated when they are a part of a larger multi-room system, avoiding any wasted heat. Electrical resistance can only be used for heating; when space cooling is also required, hydronic systems must be used. Other applications for which either electric or hydronic systems are suited include snow/ice melting for walks, driveways and landing pads, turf conditioning of football and soccer fields and frost prevention in freezers and skating rinks. A range of underfloor heating systems and designs are available to suit different types of flooring.
Electric heating elements or hydronic piping can be cast in a concrete floor slab ("poured floor system" or "wet system"). They can also be placed under the floor covering ("dry system") or attached directly to a wood sub floor ("sub floor system" or "dry system").
Some commercial buildings are designed to take advantage of thermal mass which is heated or cooled during off-peak hours when utility rates are lower. With the heating/cooling system turned off during the day, the concrete mass and room temperature drift up or down within the desired comfort range. Such systems are known as thermally activated building systems or TABS.
The terms radiant heating and radiant cooling are commonly used to describe this approach because radiation is responsible for a significant portion of the resulting thermal comfort but this usage is technically correct only when radiation composes more than 50% of the heat exchange between the floor and the rest of the space.
more details can check:

https://en.wikipedia.org/wiki/Underfloor_heating